What is SUBARU?
A brief summary of what Subaru does.
Pursuing our Goal of "Delivering Happiness to All"

The Subaru Group, by no means a large automaker, is implementing a business model centered on selection and concentration of limited management resources, creating added value, and pursuing uncompromising differentiation. That has led our customers and dealers to say that Subaru is a "different kind of brand."
As we prioritize our customers, who have made Subaru a brand unlike any other, we are tasked with continuing to evolve the Subaru Difference, unwavering even as the eras and environments change. We are also tasked with offering our customers Enjoyment and Peace of Mind, and delivering happiness. Our goal of becoming a company "delivering happiness to all" is something that we have learned from the behavior of our customers. We will continue to pursue our goal of delivering happiness to people, society, and even Earth.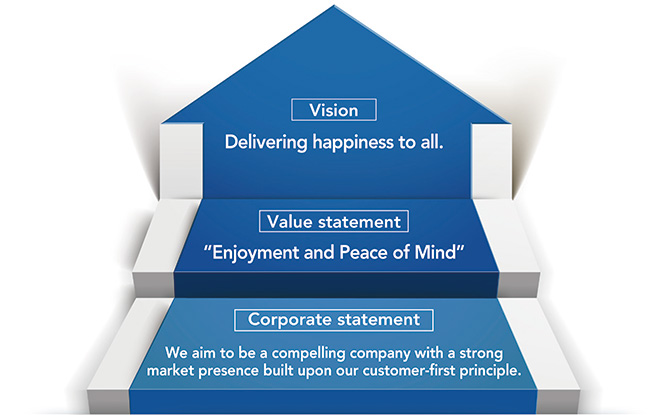 Subaru's History of Value Creation
Subaru is a global transportation manufacturer with two main businesses: automobiles and aircraft. Subaru started out as Nakajima Aircraft Company, founded in 1917, just 14 years after the Wright brothers succeeded in the first powered flight in 1903. By 1953, when we embarked on a new start as Fuji Heavy Industries, our automotive division had matured into its driving force. Since then, we have released original cars which design is highly and creative known for the Subaru 360, the Legacy, and more.
Since changing the company name to Subaru Corporation in 2017, we have deepened our ties with customers by creating new technological value. The aerospace business leads the Japanese aerospace industry and has a proven track record in the development and production of a wide variety of aircraft.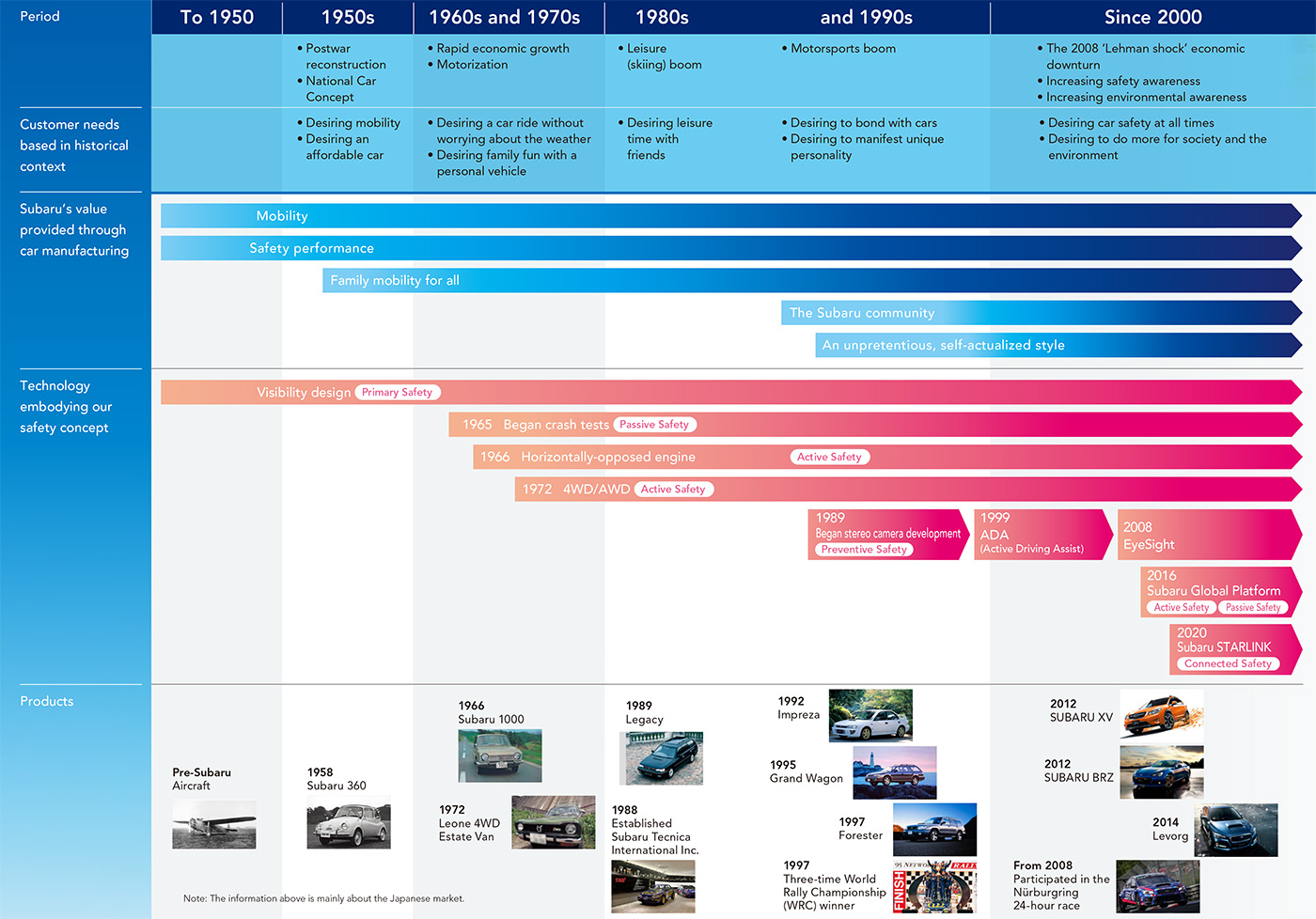 Value Creation Process
With its DNA as an aircraft manufacturer, SUBARU continues to practice human-oriented manufacturing, which places top priority on safety. By delivering Enjoyment and Peace of Mind, we seek to offer product value that embodies the Subaru difference, such as in safety and longevity. Our deep relationship with customers who appreciate that value is our greatest asset, as well as a competitive strength. To achieve our vision of becoming a company delivering happiness to all, every employee will be a growth driver as we further evolve Enjoyment and Peace of Mind to achieve both a sustainable society and our own sustainable growth.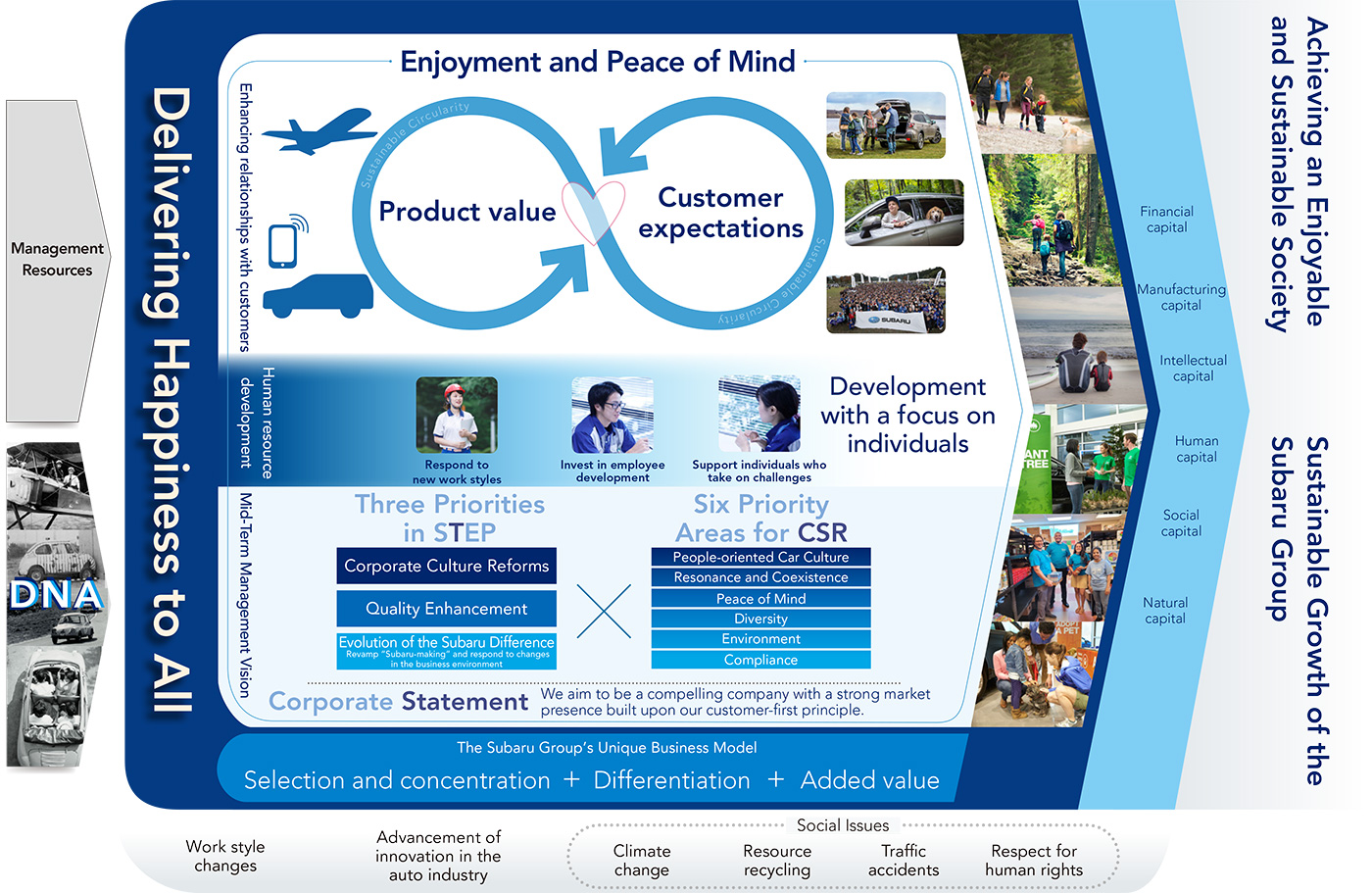 At a Glance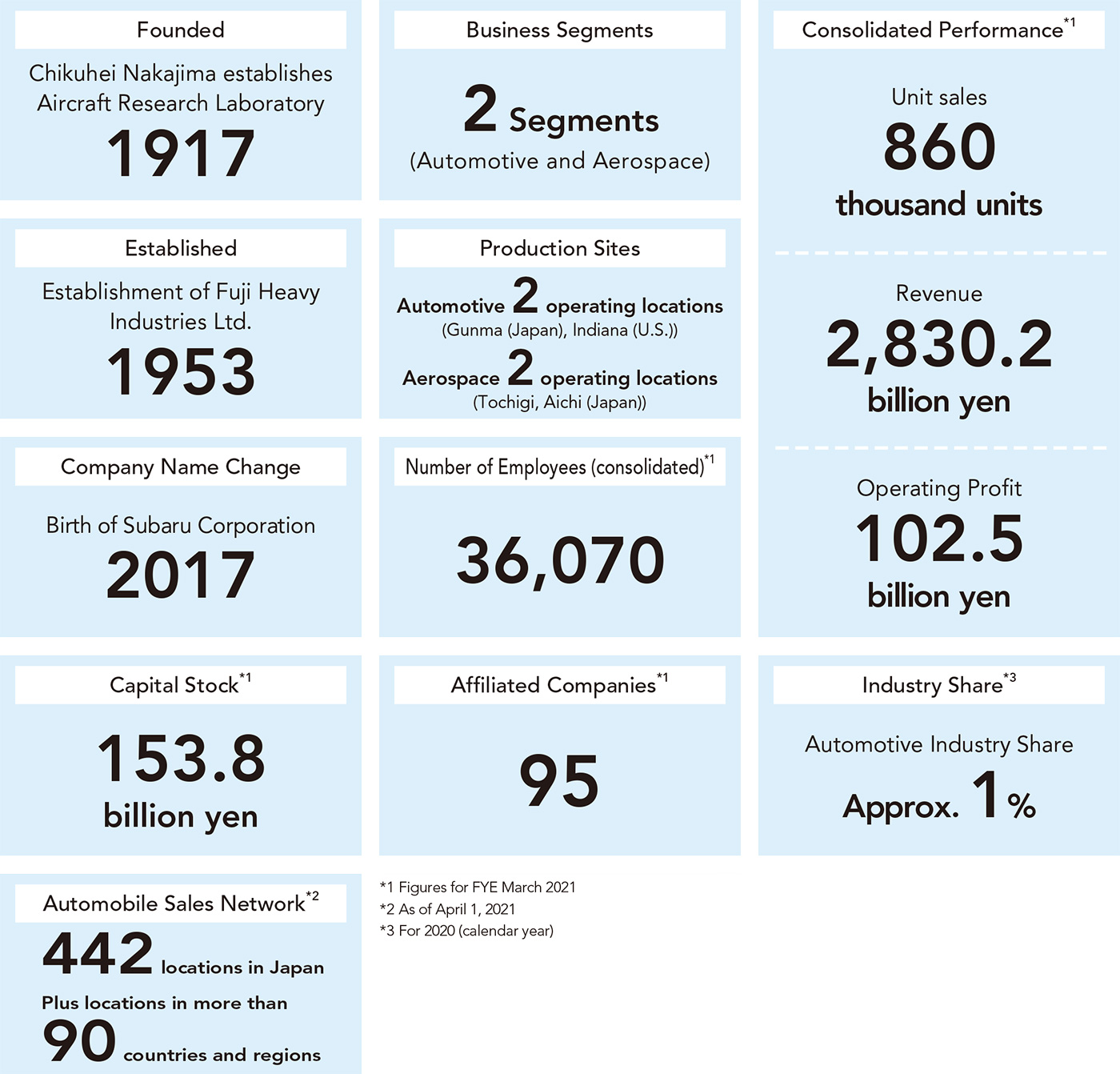 Business Introduction
Automotive Division
Ratio of Net Sales by Automobile 96.7%
The business at the core of Subaru is automobile division. Our history as an automaker began with the launch of the Subaru 360 in 1958. Since then we have worked continually to provide new value in automobiles by developing new categories based on our core technologies, such as the horizontally-opposed engine and symmetrical all-wheel drive (AWD), and by creating new technological value, including EyeSight*, the world's first driver assist system. These actions have deepened our ties with customers.
* EyeSight is the first driver assist system to provide all functionality solely through the use of stereo cameras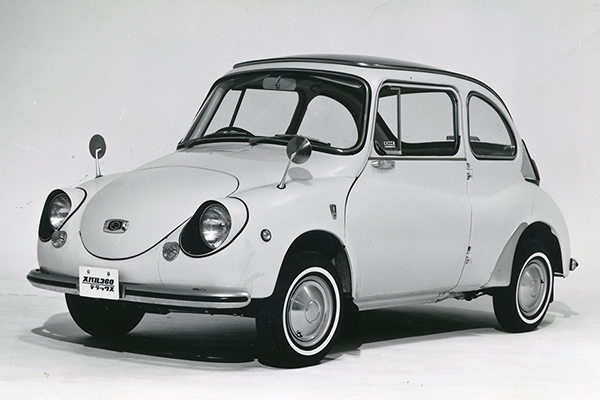 Subaru 360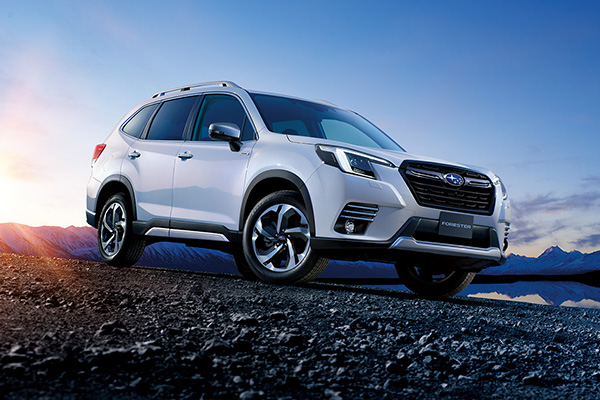 Forester
In recent years, we have positioned the U.S. as an important market, with a strategy of concentrating limited resources in fields in which we should extend our strengths and advantages, including product lineups focused on SUVs and sports models. We provide Enjoyment and Peace of Mind through high value-added products. In addition, we are working to create ever-better cars in our alliance with Toyota Motor Corporation, bringing together our mutual strengths.